Hi.
I am porting Arduino to STM32F746 board that is in progress yet.
I got a lot of help from this site and thanks for all contributors.
This board has arduino uno pins and extra connectors for motor, uart, can and gpios. it also has mpu9250 for IMU.
It is based on CubeMX project in this site and I am trying to support most of arduino functions.
GPIO/ADC/SPI/UART/PWM/USB Serial test are done so far and it use own bootloader I made through usb serial and using MAVlink protocol.
I also want to share everyhing about it.
Thanks again.
this korean cafe site(
http://oroca.org/
) about board and there are a lot of information about robots(sorry it's wrriten in korean) :
http://cafe.naver.com/ArticleList.nhn?s ... oardtype=L
source code
- main github :
https://github.com/ROBOTIS-GIT/OpenCR
- bootloader :
https://github.com/ROBOTIS-GIT/OpenCR/t ... bootloader
- arduino core :
https://github.com/ROBOTIS-GIT/OpenCR/t ... cr_arduino
- download program :
https://github.com/ROBOTIS-GIT/OpenCR/t ... /opencr_ld
this is the board( it'll be changed later)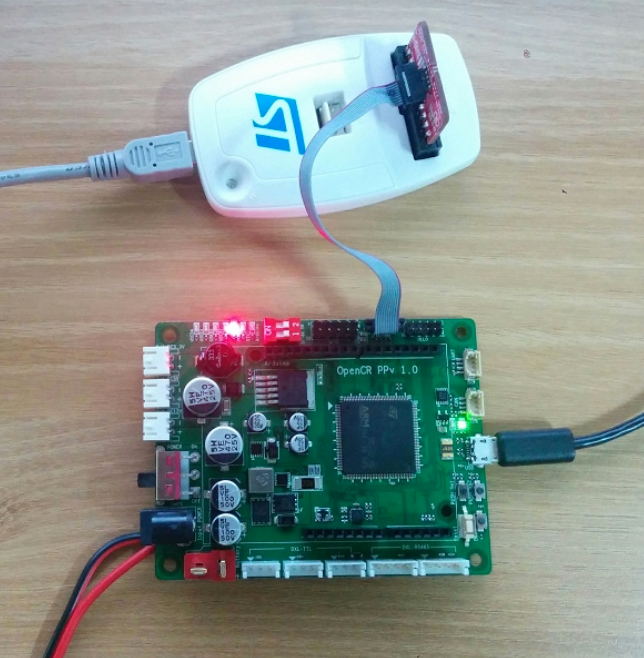 - ADC Test
- MPU9250 test via SPI
- PWM test